The Food and Drugs Authority (FDA) has cautioned Ghanaians over eating fishes washed ashore along the beaches of some coastal areas of the country. The FDA made this known in a statement signed by the Head of Communication and Public Education, Rhoda E. Appiah.
According to the body, though laboratory investigations are going,  the public is to avoid eating the fishes due to health and safety reasons.
In the interim, ' to prevent the washed-ashore fish from entering into the food chain, FDA inspection teams have been dispatched to fish markets including the Osu Mandela market in the Korle-Klottey Municipal Assembly', the statement said. It also said that other sightings have been made of dolphins washed ashore in the Western Region.
Other regions have also witnessed the incident and as such, 'the Authority has intensified its public education and sensitization on quality parameters and signs of contamination of fish in the fishing communities and fish markets. FDA regional offices along the coastline in the Central and Volta regions have also been alerted and are replicating similar efforts in towns along the coast.'
How can one tell if the fish is contaminated?
In view of this, the public is being advised to look out for freshness in the eyes and gills of fish they wish to purchase.  The washed-ashore fish typically show signs of popped out and unclear eyes, dull colouration of gills, bloating around the abdominal areas, and/or possible oozing of foul scented fluids.
The public is therefore advised to report all suspected cases of possession or selling of these washed-ashore fishes to the FDA or local authorities: 'The consuming public is also cautioned to be wary of both fresh and recently smoked fish which are being sold at unusually low prices.'
Below is the full statement: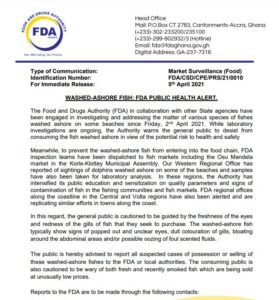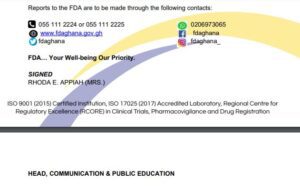 Ghanaians are to report to the following contacts:
055 111 2224 or 055 111 2225