Although the history of art in Ghana can be traced to the Neolithic period of the Stone Age (circa 8,000 BC), most Ghanaians have unfortunately not had the opportunity to experience some of these artworks.
However, selected works from the collection of the National Museum and Monuments Board dating from the 1940s to the 90s are currently on exhibited at the premises of the Museum in Accra.
Artists whose works are on display include Prof E.V. Asihene, Dr. Kobina Buucknor, Amon Kotei, Kofi Antubam, A.O. Bartemeus, J.C.O. Okyere, E. Owusu Dartey, Emmanuel Addo Osafo, F.A. Gyampoh, J.D. Okae, Kwame Wiafe Debra, Grace Salome Kwami, E.L. Asa Anakwa, Philip Amonoo, Prof Ablade Glover and Prof Ato Delaquis.
Art in Ghana is characterized by huge traditional theories of landscapes, forests, chronicles of culture, superstition, glamorizing Ghanaian cultural practices as well as the beauty and ingenuity of the African woman.
Quoting from academic literature, Prof Fosu noted that "by the turn of the 10th Century AD, major ethnic groups of migrating Africans who later consolidated their positions into ethnic states, empires and kingdoms, eventually produced standard artistic works of long-standing historical significance".
"Sculpture was practiced mostly in forest sectors of the country for the interpretation of reality in nature, rather than copying for the exactness of nature", said Prof Fosu, who has authored a number of books and other publications on art.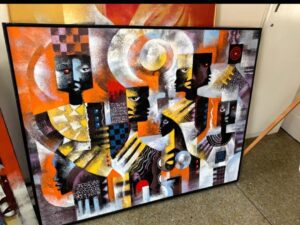 Ghana has over the years being blessed with great artists such as, Ibrahim Mahama, Paa Joe. Paa Joe, a maker of uncanny palanquins and fantasy coffins, Serge Attukwei Clottey, Zohra Opoku, Adjo Kisser, Latifah Idriss, Bright Ackwerh, Bernard Akoi-Jackson.
"The art of mural painting on the other hand continued as wall decorations on some palaces and shrines in several areas in the country. However, in the upper savannah (East), mural painting was practiced by female artists to decorate homes to raise social status of husbands as well as enliven palaces, shrines and communities" he added.
Touching on contemporary art in Ghana, Prof Fosu said Ghana has experienced varied interactions with foreign adventurers, slave raiders colonial exploiters and education architects, a move which has progressively evolved into a diverse cross-cultural contemporary art tradition.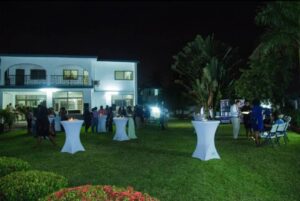 It is not so surprising then, that Joyce Quarshie, an avid collector since 1981,  had an eye for that piece of painting or sculpture as a pure art form, and as an investment appreciating in value over time.
With a driving and insatiable passion for African and contemporary art, Joyce built up one of the famous art galleries and most comprehensive private art collection in Ghana that included works from the late A. O Bartimus, Late Amon Kotei, Professor Emeritus El Anatsui, Professor Ablade Glover, Professor Ato Delaquis, Owusu-Ankomah, Kolade Oshinowo, and David Dale of Nigeria, Eva Campbell, Victor Butler, Reggie Kwao and the late Philip Amanoo amongst others.
The Berj Art gallery was founded with the vision, to exhibit and champion African and Ghanaian works of art in an environment that enhances their aesthetic and monetary values as well as promoting the artist.
This art gallery was first located at 3rd Ringway link at the Ringway estates in Ghana.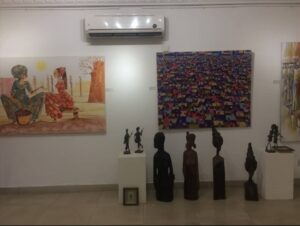 This private collection of oil, acrylic, and water colour paintings, wood and metal sculptures formed the basis Berj Art Galleries' initial exhibitions. Over the next 12 years, the Berj Art Gallery exhibited and developed an enduring relationship with Ghana's leading and established artists as well as young and talented artists such as Glenn Turner, Larry Otoo, Yaw Mensah, Agorsor, Sam Kobee, Ben Agbee, Hector Ofori and Betty Acquah who worked at the gallery in the process, building excited clients of local and international, private and corporate collectors who regularly visited the gallery to browse from these beautifully selected artworks.
SOURCE: www.http://artsghana.org/historic-ghanaian-artworks-on-display/
https://www.berjartgallery.com/about-us/
PC: Berj Art Gallery
Roderick Berlin
Maku Azu
Seun Adeyemi