From her famous clothing line to being one of the key designers featured in the most talked-about movie 'Coming 2 America', Aphia Sakyi is a self-taught wearable art accessory designer who was born and raised in Sunyani  Chiraa.
As a creative director of the Ghanaian Fashion brand, Aphia Sakyi is known to be an 'accessory goddess' due to the significant and magnificent pieces she creates with eclectic materials like brooms, cowries, feathers, human hair, masks, and anything that comes to mind.
View this post on Instagram
Aphia is now a thriving entrepreneur who manages her own design school, fashion label and directs her own video and photoshoots.
It is therefore not a wonder that her outstanding accessories have gained recognition around the globe, with her designs being featured by the popular music icon, Janet Jackson in a video honouring her late brother, Michael Jackson.
Not forgetting that the likes of HRH Princess Haifa Faisal of Saudi Arabia Ledisi, Ciara, Tarzana J Burke en Vogue music, the Lion King Musical, Lika Osipova, Tiffany Haddish, Yvonne Okoro, and many celebrities know how it feels wearing made in Ghana designs thanks to Aphia's outstanding fashion creatives.
In an interview with Myghanadaily.com, Aphia revealed that over the years, she has kept the African values, traditions, and history in the presentation of her designs since she started her brand. It is wonderful how she turns every mistake into a new design and believes every mistake is a new style as popularly acknowledged in Ghanaian society.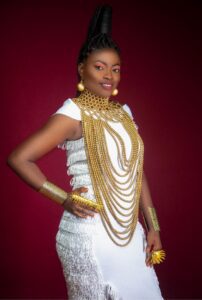 How her fashion journey started
Seven years ago, a friend suggest to Aphia to study fashion because she was working on uniforms and through this, she noted that to become a successful fashion designer, one needs to be authentic, consistent, and confident.
Her source of inspiration 
Her inspiration is sparked by everything around her and she loves to create without limitation, in order to tell a story.
How she got featured as a key designer in 'Coming 2 America' 
View this post on Instagram
As unimaginable as it was, has become one of the most talked-about key designers due to the uniqueness of her accessories which were used throughout the play of the movie.  Describing how unbelievable the opportunity was, Aphia said, 'When a member from COMING 2 AMERICA team contacted me I thought it was a scam. They contacted me through our website.'
Aphia's advice to young and upcoming designers
A young designer should understand that the Fashion Industry is full of limitless opportunities and incredible creatives. Once you stay authentic and consistent, you will succeed.
Aphia Sakyi is Afrocentric, with a desire to help Africans around the world to love who they are and feel good about showing it. Her attention to detail makes every one of her designs unique, making her a 'Remarkable Fashion Goddess' throughout the globe.
Source: myghanadaily.com